Introducing a groundbreaking Photofy feature exclusive to the Berkshire Hathaway HomeServices Network – a seamless MLS listing photo integration.
Starting August 23rd, users can access property photos straight from their MLS listings. Elevate your marketing game as manual downloads and uploads become history. This feature offers an instant, hassle-free method to incorporate MLS listing visuals into your content, saving time and effort.
When you sign into your Photofy and Berkshire Hathaway HomeServices app, you will gain all of your DBA logos and Headshots along with your MLS Listings. They will show up as street addresses in subcategories under "My MLS Listings" under the "Backgrounds" section of Photos & Collages, Video and Photo Templates and Video Templates.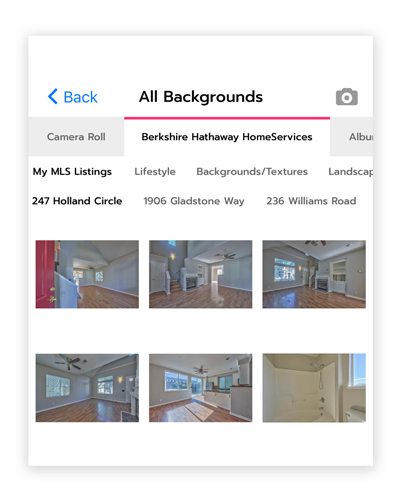 Below is a video example of how it will appear within Video Templates:
If you have further questions please submit a ticket in support: https://support.photofy.com/hc/en-us/requests/new