Photofy is the perfect solution for customizing videos to use in your marketing campaigns. From Thank you's to Coming soon's, you can customize your video by adding logos, contact information, headshots and more!
Tap on the Video button on your home screen. Now you can select a video from your camera roll, albums, our stock videos or your cloud drives.
If you'd like to change the layout of your image you can tap on the ratio option to choose the best format for channels; for example, Facebook posts, Instagram reels, or Tiktok.
Tap on the image ratio that best fits the social channel that you'd like to post to and tap apply
I want to add a little extra pizazz to the video by adding some music as an attention getter (available on iOS only currently). Tap on the video, and the tools will pop up at the bottom. Choose music and here you can preview the options and then tap on the plus sign on the right and apply to add your selection. Double tap on the music timeline to make any adjustments to the music. You can add a fade in or fade out and adjust the volume of the music to hear any background voices, from the original video if desired.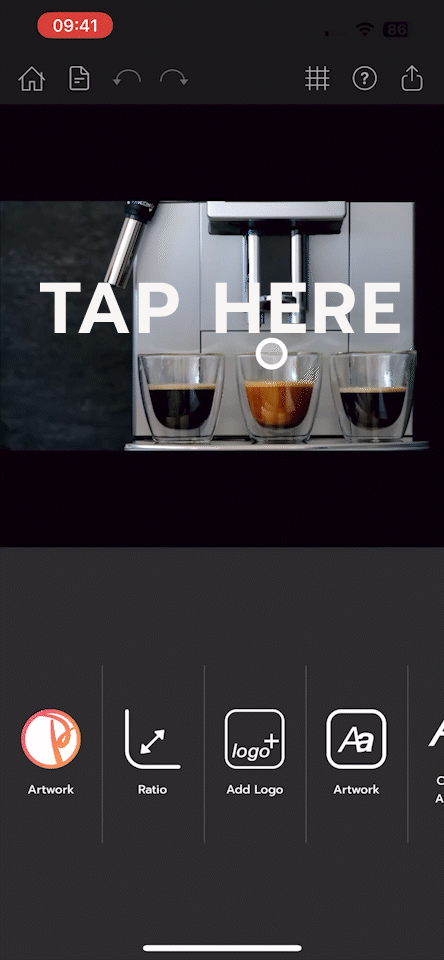 The video will continue to play during creation, so you can view placement of your additional overlays so be prepared to keep rockin out to the music while you add your overlays.
Next, I'll tap on the Logo+ button where I've already loaded my logo and headshot. Of course, you can use this for any custom artwork overlays you'd like to have handy. Let's choose my logo, resize and move it to the corner.
Next, I'll go to stickers, and find a fun arrow to draw attention to the delicious looking espresso being made here. I'll choose this arrow, resize using the sliders, and move forward.
Now, let's go to the artwork button, search for coffee, and add this little saying.
Once you're happy with your content, Tap on the share icon to render the video and move to sharing screen where you can share off to your social channels, a text or email.